Consumers nowadays become more comfortable with buying products online, moreover after COVID-19 pandemic boost online behaviour. The ecommerce industry continue its growth, with the global market forecast to hit $5.1 trillion in 2026. It's not too late to start an ecommerce business.
One of the biggest ecommerce platform, Shopify, let you set up your online store in minutes. Shopify features enables easier, faster and more scalable ecommerce website development. Using Shopify will simplify your day, as you don't need to mess with third parties and spend extra money for web hosting.
If you just start your own ecommerce business, you can minimize your cost by using free Shopify themes rather than paid ones. This will allow you to validate your business idea before pouring big amount of money into your business.
Ap Envy
Ap Envy is fully responsive and highly customizable. It is designed in a special platform to work well in popular devices such as computers, tablets and desktop. This template is truly suitable with Fashion shops, Clothing shops, Hat shops, Shoes shops and much more. Ap Envy theme can turn your store into a luxurious and unique heaven for shopping online.
With product quick view, you can navigate quickly between several products in order to inspect a product without redirecting to product detail page. Although you can proceed to the page if looking for more details and information, our team wants to give you an extra option to change the user's experience in a positive way.
Venture
Venture is a bold yet minimal theme designed for high volume stores with large inventories. Features include an edge-to-edge slideshow, multi-column drop-down menus, and a promotional bar.
This theme has professional layout and homepage features that will drive conversion rates. Although it's lack of customization, this theme is great for beginners who want to quickly launch professional ecommerce website.
Ap Wood
Ap Wood is a fully responsive shopify theme that utilizes the latest technologies in Web Development to dynamically adjust for all screen sizes and services. This template meets and fits with furniture store, sofa salon, interior and exterior design. This free theme will help you elevate your business to another level through sublime layout and outstanding features.
Design is slick and simply that directs visitors' attention straight to your products. The elegant layout will not only make your products stand out, but will also create an efficient use of screen space. However, the secret is behind Menu button. It can be said that FREE AP WOOD is user friendly theme as all sections such as size, price, and colors are classified eye-catching and visually.
Simple
Simple is a clean and minimal theme, perfect for showcasing products. Features include a mobile-first responsive design, sidebar navigation, image animations, and product image zoom.
This theme is the best option for clear and minimal store, highly recommended for new starter online business. The other advantages of using minimal theme is shorter loading time that will increase user experience in positive way, leading to conversion.
Boundless
Boundless is a photography-first theme with a minimal UI that features edge-to-edge photography. Boundless is mobile-first and suited for stores with medium to large inventories.
Fresh and slick theme, optimized for large images in a dedicated product gallery. Collection images are presented in a full-width grid layout, great for showcasing product imagery. This theme also support home page video from YouTube or Vimeo.
Curator
Curator Fashion Free Shopify Theme is designed with high applicability. By that, it can be easily adjusted to be fit with any online stores from man fashion shop, clothes and accessories store to handbags, shoe shop.
This theme has an extremely impressive homepage which makes any guests visiting your site be attracted in the first sight. Banners with various dimensions placed flexibly in different positions on the website help you show outstanding contents to customers as big sale off, new arrivals, discounts.
Supply
Supply is a clean, easy-to-navigate theme perfect for merchants with large inventories and several collections. Features include prominent navigation, multiple home page collections, sidebar filtering, and easy integration with the Product Reviews app.
This theme is built for large catalogs and comes with featured collections on home page. Customers can also filter collection pages by brand, price, and other customizable options.
Forest
Forest is a best, popular, modern and clean responsive furniture Shopify theme. You can easily customize or edit this theme because it has well documented code style and also follow standard coding algorithm standard.
Forest theme is beautiful and very customizable, everyone can completely personalize. Simply powerful and provides customers with a seamless, fluid shopping experience.
Debut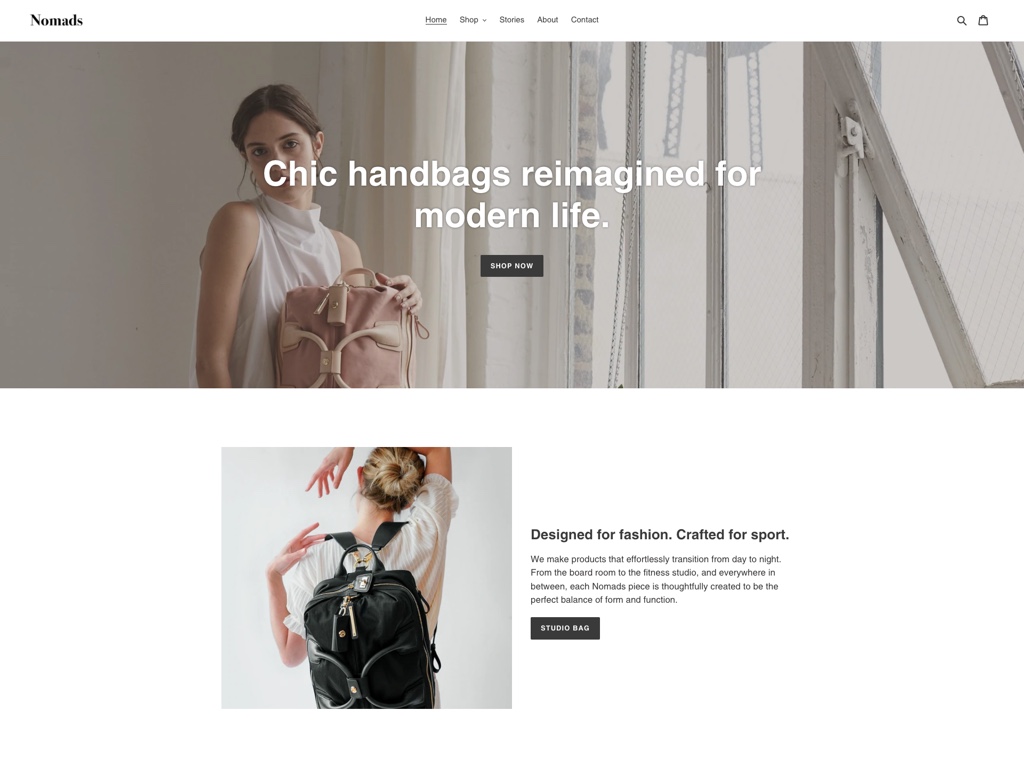 Debut is a flexible theme that is suitable for all stores, regardless of inventory size. With Debut you can quickly set up a store and start selling. Debut looks polished without any theme customizations.
Debut is ideal if you want to start selling right away, without the need to make a lot of customizations. This theme also make sure that your store displays well on tablets and smartphones.